The Weakest Link in Baseball Pitcher's Shoulder: Understanding the Risks and Prevention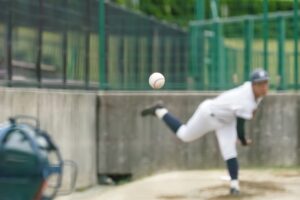 Baseball pitchers place tremendous demands on their bodies, especially the shoulders. The repetitive and high-velocity motion involved in throwing a baseball can lead to various injuries, with rotator cuff injuries being among the most prevalent. Understanding these injuries and implementing preventive measures is crucial to ensure the long-term health and performance of baseball pitchers. Any chain is only as strong as its weakest link. The weakest link in anyone's shoulder is the rotator cuff.
1) The Rotator Cuff and its Importance
The rotator cuff is a group of four muscles and tendons that surround the shoulder joint. As a group, they are essential in providing shoulder stability and movement. These muscles are named the supraspinatus, infraspinatus, teres minor, and subscapularis. They work together to enable overhead motions, especially in pitching a baseball.
Common Rotator Cuff Injuries in Baseball Pitchers:
A. Cuff Tendinitis: This injury occurs when the tendons of the rotator cuff become inflamed due to overuse or repetitive stress. Pitchers often experience tendinitis as a result of the repeated throwing motion, which places excessive strain on the shoulder joint.
B. Rotator Cuff Tears: Tears in the rotator cuff can be partial or full-thickness tears. These injuries are typically the result of chronic wear and tear, or acute trauma. Pitchers may experience rotator cuff tears due to the repetitive stresses placed on the shoulder joint during pitching. Over time, the tendons can weaken and eventually tear.
C. Subacromial Impingement Syndrome: This condition occurs when the bone of the acromion, part of the shoulder blade, rubs against the rotator cuff tendons during shoulder motion, leading to abrasive irritation of the tendons. This outdated terminology: subacromial "impingement" syndrome, is actually the result of insufficient rotator cuff function to keep the shoulder in a centered and stable position during shoulder motion. The result is abnormal upward shifting of the shoulder during shoulder movements. The symptoms are pain and reduced range of motion, making it difficult for pitchers to perform optimally.
2) Prevention and Treatment:
Prevention is key to avoiding rotator cuff injuries in baseball pitchers. Here are some strategies to help reduce the risk:
A. Proper Conditioning: A well-rounded strength and conditioning program that includes exercises targeting the rotator cuff muscles can help build strength and stability. Working with a qualified strength and conditioning coach can ensure pitchers follow an appropriate program.
B. Warm-up and Stretching: Prior to pitching, a thorough warm-up routine is essential to prepare the shoulder joint and muscles for the demands of throwing. Gentle stretching exercises can also help maintain flexibility.
C. Pitch Count Management: Limiting the number of pitches thrown and implementing proper rest periods between outings can prevent overuse injuries. Following established pitch count guidelines, such as those recommended by sports medicine associations, is crucial for pitcher safety.
D. Proper Technique and Mechanics: Coaches should emphasize proper pitching technique and mechanics from an early stage. This includes correct arm positioning, balance, and follow-through, which can reduce stress on the rotator cuff.
3) In the Event of an Injury, Early Diagnosis and Appropriate Treatment Are Vital for Recovery:
A. Rest and Rehabilitation: Resting the shoulder and undergoing a structured rehabilitation program can help heal minor injuries and restore strength and mobility.
B. Physical Therapy: A qualified physical therapist can guide pitchers through specific exercises aimed at strengthening the rotator cuff muscles, improving flexibility, and restoring function.
C. Medical Interventions: In cases of severe injuries, medical interventions such as corticosteroid injections or, in some cases, surgical repair may be necessary. A medical professional can provide appropriate guidance based on the severity of the injury.
Conclusion:
Rotator cuff injuries are a common concern for baseball pitchers due to the repetitive nature of the sport. However, by understanding the risks and implementing preventive measures, athletes can reduce the likelihood of these injuries and promote long-term shoulder health. With proper conditioning, technique, warm-up routines, pitch count management, and early intervention, pitchers can minimize the risk of rotator cuff injuries and maintain their performance on the field.
Coaches, trainers, and medical professionals play a critical role in educating pitchers about the importance of shoulder health and implementing injury prevention strategies. It is essential to prioritize long-term player well-being over short-term performance, as proper care and attention to the rotator cuff can have a significant impact on an athlete's career longevity.
In addition to prevention, timely diagnosis and appropriate treatment are crucial if an injury does occur. Seeking medical attention and working with a qualified healthcare professional, such as a sports medicine physician or physical therapist, can aid in the recovery process and facilitate a safe return to pitching.
Furthermore, ongoing research and advancements in sports medicine are continuously improving our understanding of rotator cuff injuries and their management. It is essential for athletes, coaches, and medical professionals to stay updated on the latest developments in this field to ensure the best possible care for baseball pitchers.
By prioritizing education, prevention, and appropriate treatment, we can reduce the prevalence of rotator cuff injuries among baseball pitchers. Through a collaborative effort between athletes, coaches, trainers, and medical professionals, we can protect the long-term health and well-being of baseball pitchers, allowing them to continue enjoying the sport they love while performing at their best.
Remember, a healthy rotator cuff is the foundation for a successful and sustainable baseball career. Take care of your shoulders, and they will support you in achieving your goals on the mound.